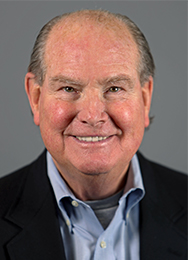 Timothy L. Vaill is a Senior Partner and the Chief Financial Officer responsible for overseeing the firm's capital structure, financial planning, and financial management. He is the key liaison with Anbaric's co-owner and investment partner, the Ontario Teachers' Pension Plan.
Mr. Vaill is the former Chairman and Chief Executive Officer of Boston Private Financial Holdings, Inc., a publicly owned investment management and banking company. Prior to this role, Mr. Vaill was an Executive Officer for an American Express subsidiary, The Boston Company, and a senior financial consultant for Fidelity Investments in Boston. Mr. Vaill also served on the Economic Development Team for the Commonwealth of Massachusetts under Governor Deval Patrick prior to joining Anbaric.
Mr. Vaill holds an MBA in Finance from the Harvard Business School, a Master's in Public Administration from the Harvard Kennedy School and a B.S. degree in Mathematics from Tufts University. He serves on several boards and was formerly the Chairman of the Economic Development Council for the Town of Andover, where he resides. He continues to serve as a member of the Investment Committee for Massachusetts' $75 billion State Pension Fund, MassPRIM.