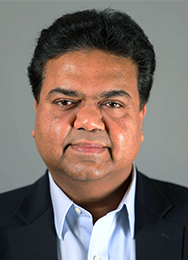 Soam Goel is a Senior Partner with Anbaric. Mr. Goel leads investments in storage, transmission, microgrid projects, campus energy infrastructure, and existing energy infrastructure that can be transformed through significant capital investments.
Prior to joining Anbaric, Mr. Goel has been the Chief Commercial Officer of Power Network New Mexico, a wholly-owned subsidiary of Goldman Sachs Global Infrastructure Fund (GSIP). He originated the $400M project for GSIP. Mr. Goel founded Enersights in 2004 to provide strategic advice to senior executives of utility companies and financial participants. Prior to that, Mr. Goel spent ten years with PA Consulting and its predecessor firms where he co-headed the energy M&A practice. Under his leadership, the firm conducted assignments such as company, generation, and transmission transactions – $40M to $8B in size – for utilities, industry vendors, investment banks, and private equity. Mr. Goel has experience working for the Unilever Group of Companies as part of their fast-track management development program. Mr. Goel received a B.Tech. in Chemical Engineering from the Indian Institute of Technology and an MBA from the University of Texas at Austin.
For more information on Mr. Goel, read the latest profile piece on Persons of Infrastructure here.